Sadhu Rangarajan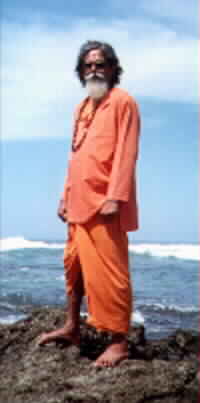 It is the least we can do to pay homage to Sadhu Rangarajan.
First for this little Krishna, it is through Sadhu's noble work that he went to know about Yogi Ramsuratkumar when he was living in France. When he got married in Mauritius in 1988, he found a little spiritual newspaper with an advertisement about Indian culture... It is through him than he received an invitation for Yogi Ramsuratkumar Jayanti. Such are Yogiji's ways. And when in Madras in 1990, he and his wife were received by Sadhuji and Srimati Bharati as if they had been always part of the family. Each time he passed with Sadhuji, he has always found kindness and spiritual atmosphere and, around him, many wonderful persons and true satsang. Again, it is Sadhuji who prepared Krishna's meeting with Yogiji. At the same time he got in touch with Sadhuji, he went to know his wonderful children Vivek and Nivedita. He will never thank them enough.
The first Yogiji's biography he reads was "Glimpses of a great Yogi"... The words this Krishna could say about Sadhuji are nothing compared to words he read on him written by others who got in touch with him. Sadhu Rangarajan received initiation from Yogi Ramsuratkumar who gave him the noble task to spread Ramnam everywhere, as he does in South Africa too. i remember the blessings i received to be sent by Yogiji in a tour in Northern India where i went with Sadhuji; then a year later, in Nagpur. So many wonderful people i met there!
Nowadays, Sadhuji continues his great work from Bangalore, without respite. It is such a great thing to read his writings to which it is difficult not to adhere, and to feel his Love for Bharat Mata ! His deep culture, love, work understanding and kindness, his attachment to Dharma make Sadhuji a great son of Bharat Mata, an example, walking in the footprints of Swami Vivekananda.
Please, go to the website of the Sri Bharata Mata Mandir to know more about Sadhu Rangarajan and read some of his writings. Click here.